The Tiger Cub program
is for first grade (or age 7) boys and their adult partners. There are five Tiger Cub achievement areas. The Tiger Cub, working with his adult partner, completes 15 requirements within these areas to earn the Tiger Cub Badge. These requirements consist of an exciting series of indoor and outdoor activities just right for a boy in the first grade.
Tiger Motto:
Search, Discover and Share
Tiger Leaders

Tiger Den Leader: The tigers have crossed over to become wolves. Congratualtions boys!! The Tger den will resume anew next year.
Tiger Den Co-Leader:


Below are a few good Tiger resource links.
Tiger Virtual Hand Book
Leader Resources:
Tiger Cub Attendance and Dues
Tiger Cub Den Advancement Report
Tiger Cub Den Record
Tiger Cub Individual Record
Tiger Den Meeting Program Form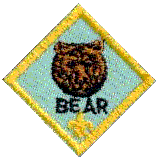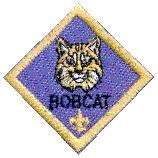 [ HOME] [ TIGERS ] [ WOLVES] [ BEARS] [ WEBELOS] [ PACK] [ MEMBER GUIDELINES]
[ PACK CALANDER] [ LEADER AND COMMITTEE MEMBER'S]
[ COMMITTEE MEETING MINUTES] [ VOLUNTEERS NEEDED] [ UNIFORM SPECIFICS ]
[ GAME ZONE] [ LEADER RESOURCES] [ HELPFUL LINKS]
[ E-MAIL] [ VIEW GUEST BOOK] [ SIGN GUEST BOOK]